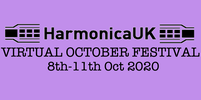 Every year I was very happy to go back to the beautiful town of Bristol and meet my friends from UK again. The october festival moved to an other place, in the concern of accessibility for people with disabilities. The virus is still there, so it was obvious that the HarmonicaUK festival could only be ONLINE this year...
The star-studded Virtual October Festival will be from 8th to 11th October 2020, starting now on Thursday evening. There are 13 confirmed international artists, Charlie McCoy; Robert Bonfiglio; Beata Kossowska; Giles Robson; Christelle Berthon; Mathias Heise; Donald Black; Giovanni Volini; Sorarmonica Duo - Simona Perme & Vladimir Hrovat; Rachelle Plas; Adam Glasser; Annie Raines; and Tony Eyers. Check out the details, the list and the timetable at
www.harmonicauk.com/festival

. It is being updated regularly!
This star-studded festival will be free to attend and
registration is required. To access the Zoom sign-in details
email David Hambley

-
memsec@harmonica.co.uk
. HarmonicaUK is asking for donations that will go directly to the artists as much as you can.